Makeup Artist @ Runway Room HQ, Enrica, explains how to achieve luxurious looking skin using our Get That Glow Pack.
As a makeup artist, I've noticed a trend across the board, when it comes to what clients want. In fact, they're the same words that are on the tip of every beauty junkies lips: Glow. Radiance. Natural gleam. However you describe it, we're all after that beautiful, flawless base that resembles healthy, plump looking skin while looking beautifully sunkissed.
Runway Room HQ and CEO, Alex Fevola, have listened and have been working hard to provide a Glow Pack that you makeup lovers can depend on to be your go-to when you're in the mood for a good skin day... which lets face it, is every day!
Put your best face forward using Runway Room's Get That Glow Pack! Before I go into the finer details of our Glow Pack, I need to stipulate that all powders are 100% mineral, and all products are 100% Australian Made AND most importantly, NOT TESTED ON ANIMALS!!!
'Mineral' makeup is a word often thrown around and in my opinion, is a very underrated form of makeup. There are many common misconceptions surrounding mineral makeup, but the facts are:
It is makeup in its most natural form

Super High Pigment

Great for sensitive skin and has anti inflammatory properties

Suitable for all skin types

Sun protective qualities

Absorbs excess oil and prevents breakouts

Refines the appearance of pores

Minimises the appearance of wrinkles
Our Get That Glow Palette includes the following products that will be sure to amp up the glow:
Runway Room Primer
Not only does our primer create an even surface to perfect your makeup application, it will increase longevity and reduce shine. Apply 1-2 pumps evenly on face and neck.
Runway Room Face Base (with the shade of your choice)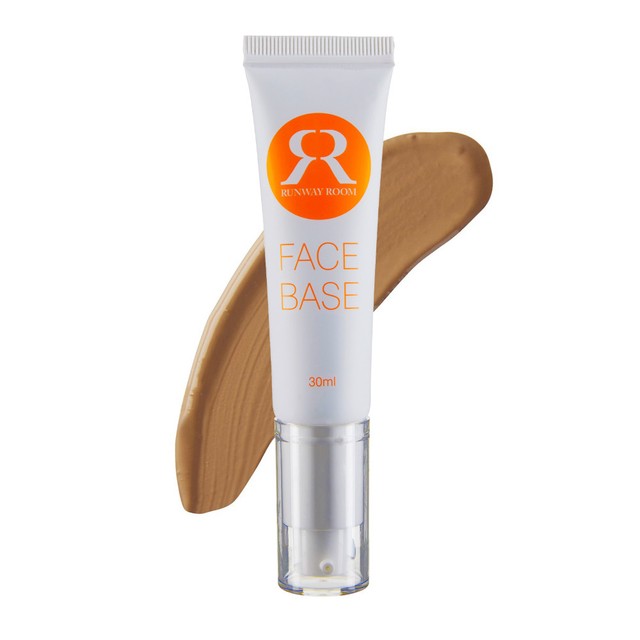 Our Face Base is the perfect foundation to achieve that dewy glow. A light layer will create a natural, light coverage. However, if you love more of a fuller coverage, you may build up the foundation without compromising the makeup and risk looking cakey. We suggest applying more generously in areas where your hands may make contact during the day, such as your jawline and T-Zone.
Blend evenly around your face, down your neck and around your ears with a foundation buffing brush.
Runway Room Buffing brush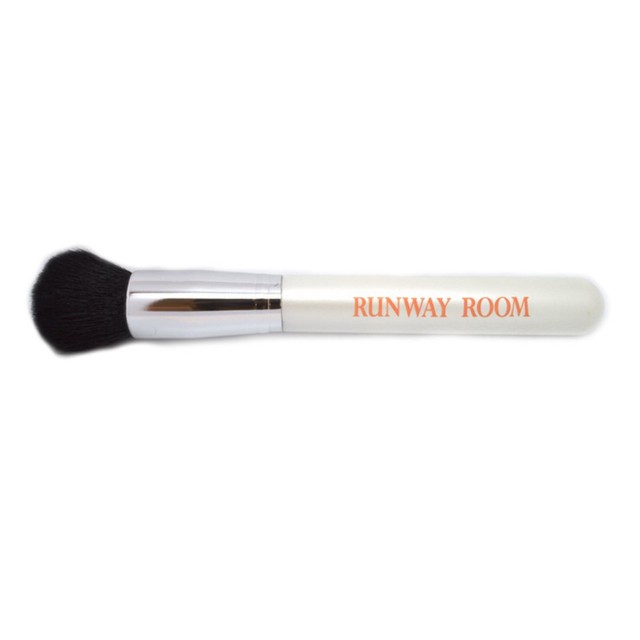 Runway Room Buffing brush is a 'must-have' tool in every makeup lover's kit. Its soft, natural fibres ensure that it won't disturb your freshly applied base. Use to apply setting powder to concealer, to set foundation with our Runway Room Mineral Powder, and to apply products from our Glow Palette. We
guarantee
you'll be reaching for this multi-purpose brush every day.
Runway Room Glow Palette *NEW*
Our brand new Glow Palette has sparked a buzz amongst our Makeup Artistry team- we finally got our hands on this new release, and the hype has definitely not let us down! Runway Room's most popular shades, Vegas Sunset Bronzer, Peach Punch Blush, and our warm Illuminate Powder all work together to provide the signature Runway Room look- a sunkissed, flawless glow that will make heads turn.
Apply Vegas Sunset bronzer to hollows of cheeks, around the temples to frame the face. You may also use it as an eyeshadow to blend through the eyelid crease (see below for Mia Fevola's video demonstration).  Add life to your look by applying Peach Punch to the apples of your cheeks (PRO TIP: smile to locate the apples of your cheeks, and blend outwards). A small amount goes a long way, thanks to the gorgeous high pigment! Our Illuminator powder works best applied to the high parts of your cheeks, down the bridge of your nose, on the cupids bow and across the brow bone.



VERSATILITY
The reason why we've seen 'Get That Glow Pack' grow to be one of our most popular packs, is because of its versatility, and ability to ace all faces, regardless of age, skin tone and level of glamour desired.
We have seen a huge surge in sales by clients with more mature skin, due to the weightless feel of the foundation combined with the non-cakey powders in our glow palette. This combination has proven to give the ultimate 'Youthful Glow'. For the same reasons, it's perfect for young skin as its breathable and lightweight and wont 'mask' or 'cake' the skin.
Our Glow Pack also caters to different skin tones, from Olive to Fair (as seen on Models Mia Fevola and Alana Sulic) Our foundations also range in shades from A-H, A being the Fairest and H being the Deepest.
Finally, whether you desire a Natural Glowy Finish or High Velocity Glam- Get That Glow Pack has you covered. Alana and Mia are proof that no matter what look you are trying to achieve, you can depend on this pack pack to totally ace your face!
Mia wears 'Get that Glow Pack in Shade E' and Glow Palette on eyes also. Medium Brow Dust, Toffee Cream Lip Gloss and Luxe Lash to complete this flawless, natural look.
Model Alana wears Runway Room's 'GET that Glow in Shade C' and  Supermodel Lipstick & Copper Please Eye dust on the lids, Medium Brow Dust and Luxe Lashes to complete the look.
Press play to watch our brand ambassador, Mia Fevola, demonstrate how she uses her Glow Pack products to achieve a flawless, everyday makeup look.